Committed to improving the Well-being of the people of our community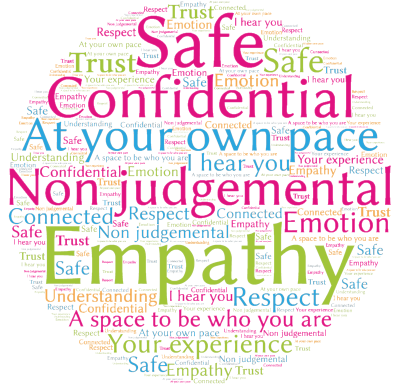 We are a St Austell based Community Interest Company Offering an accessible and cost effective Integrative Counselling Service open to all.
We all find that at some point in our lives we experience feeling low, distressed, worried, fearful or tearful. There are many reasons for this, you might be suffering with;
Physical ill-health or disability, Anxiety, Depression, Low Self Esteem, Relationship Issues, Separation, Stress, Anger, a Phobia, Bereavement, Divorce, a Traumatic event, Alcohol or Substance Misuse, or you may just be finding life difficult to cope with right now.
Counsellors Together offer one to one Counselling support that is promptly available and effectively targeted, drawing on a variety of Therapeutic approaches to individuals experiencing Mental Health Issues.
All Counselling sessions are held in a safe and confidential environment.
Our service aims to reduce the effects of emotional distress, stigma and discrimination and in turn promote independance and improve Health and Well-being of Individuals that access our service.
The outcome for clients will include better mental health, improved self-esteem, feeling and being safer, reduced harmful coping strategies, improved self worth and awareness of their situation, improved life choices, healthier relationships with others, reduced in anti-social behaviour and reduced Alcohol and Substance misuse.
We are running a funded project for individuals with Alcohol, Substance Misuse and anti social behaviour.
Please explore our website for further information on what we do